Infant massage establishes a tradition of touch that will enhance your relationship with your child for years to come
Benefits of Baby Massage
~ A Gift worth giving ~ 
Vouchers available for Baby Massage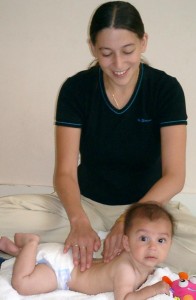 Deborah is a Certified Infant Massage Instructor who trained with The International Association of Infant Massage. Deborah runs infant massage courses for parents and caregivers of infants up to approximately 8 months old. Her experience of yoga and her holistic approach to teaching baby massage ensures that her classes are popular, interesting, informative and educational, as well as having all the benefits of the actual massage, which are numerous.
Deborah has worked with various organisations teaching infant massage, including Mothercare, The National Childbirth Trust, Holmes Place, Surestart Greenwich, Bromley Mind, Saplings Nurseries and The Therapy Centre to ensure that Mothers, Fathers and Caregivers can learn to massage their infants. She gives talks and presentations and runs workshops for healthcare professionals who work with infants. Classes are held in your own home, and are tailored to suit the needs of the parents and babies.
About the classes
Learning infant massage could not be easier. You will be guided through each stroke carefully so that you will feel confident. You will learn to relax yourself and create a serene and nurturing environment in which your baby will thrive.
Lessons are held at home over a 3 to 4-week period. Dads can learn the massage techniques too. Anyone who looks after the baby can attend the lessons.
You will be advised on what oils are appropriate for use on your baby, the best time to carry out the massage and how to create a calming environment. You will be taught abdominal massage, helpful in the relief of colic and wind. Each stroke and movement will be explained so that you understand the effects on your baby's body.
Respect, bonding, why baby cries, reading your baby's body language and stress in relation to both you and your baby are just some of the skills and topics taught.
Premature, Caesarean and special needs babies can benefit enormously from infant massage, as it helps the babies to gain weight and aids development and strengthening of internal organs and systems.
Parents with post-natal depression and those who feel that they would like to have a closer relationship with their child can benefit greatly from the skills and knowledge learned through the art of infant massage.
Home Classes- Costs
The course of baby massage costs £60 per person.
This includes 3 to 4 classes, depending on how many people we have in the class.
Oils and handouts are included
Improves quality of sleep
Tones digestive system
Relief of colic and wind
Strengthens the immune system
Improves the circulatory/lymphatic systems
Raises an infant's stimulation threshold
Reduces muscle tension
Strengthens nervous system and aids its development
Gentle exercises encourage the development of flexibility and co-ordination
Strengthens bonding
Establishes close, loving communication which provides security and stability for the child
And for you…………
You learn beneficial relaxation and stress management techniques
Provides opportunity for fathers to spend quality time with their children
Develops mutual trust and respect
Increases parental confidence and self-esteem
Strengthens bonding
Children who have secure relationships with parents tend to have better relationships with others, both as children and adults.
Benefits flow on though the next generation as parents tend to parent as they themselves were parented.
Client's Comments
"The course was not only a way to learn baby massage but also a vehicle for getting out meeting others in the same situation. We were made to feel extremely welcome and did not feel we were being judged if our baby cried or was not happy. I felt at ease and learnt a lot more that I thought I would.
The Instructor was extremely genuine and very passionate about her work. She was informative and knowledgeable. My eyes have been opened to alternative ways of thinking and to see things in a more positive way. I'm sure me and my baby have benefited and that many others will too!"
Ruth Holmes, Bromley
"The course is a very good introduction to massage with nice small classes. It was very relaxed and enjoyable and I enjoy the quality time spent with my baby during massages. The massage may have helped to eliminate my baby's colic"
Sarah Cassidy, Beckenham
"Attending the classes has given me more confidence in touching my baby and as a result helped us become closer. The course was well run, creating a relaxed atmosphere and Deborah made every effort to ensure I could take in the new strokes even when I had to miss a class or when my baby was crying"
Lucy Milmo, Beckenham (baby premature)
"The classes were very relaxed with a calming atmosphere, both for mother and baby. Deborah gave very clear instructions on the massage and I am using the tummy routine to alleviate my baby's wind and I don't feel helpless anymore. We are now both much more relaxed"
Rosie Ferguson, Beckenham