This is a special deal to only the first five clients. Offer ends on the 15th October 2013 so please book asap
Usual cost £195, special offer available to only 5 clients. Cost £95. (The average 20 a day smoker will spend at least £200 per month on cigarettes)
For further information or to book, please contact Steph on 07734 525888
or email freefromprogrammes@gmail.com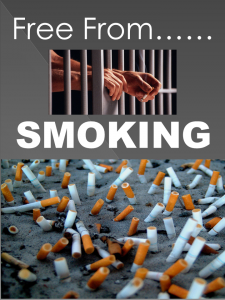 We are pleased to introduce a new team of three complementary therapists who offer a new enhanced treatment by mixing different therapies together to offer one single effective programme.
Their aim is to make the process of becoming a non-smoker easier. It is often thought that stopping smoking is difficult because of the nicotine addiction. Surprisingly it is actually more to do with the mental thought processes which are associated with smoking and this is where these therapists can help.
NICOTINE IS NOT ADDICTIVE, SMOKING IS…
The subconscious mind can be trained by habitual repetition and this is how smoking becomes addictive. Although we recognise that nicotine gives smokers an initial "rush", the nicotine itself is not actually addictive. It's just the habit of smoking that the brain has become addicted.
Hypnotherapy on its own has always had an excellent reputation for helping smokers give up. Success rates are well over 90%! Now these combination of therapies aims to make it a 100% success rate, and ease the process by adding Energy Clearing and Homeopathy to the blend!
Stephane Burton, Alison Endenburg and Jo Constantinou have combined their skills and knowledge to create a highly successful combination programme. This process is thorough and tailor-made to each client allowing understanding of the root cause behind their smoking pattern/habit/addiction. Treatment includes clearing blocks and resistance, one single hypnotherapy session and a kit of homeopathic remedies to support you during the following month.
They are launching this treatment TODAY with a promotional price to the first five people who are serious about giving up smoking. All that they ask is a that candidates have made the personal decision to want to stop smoking and are willing to proffer feedback and a testimonial after completion.